GreenLight Hell
Wednesday, 19 August 2009 18:46
tron II is in the works....




and this is what jeff bridges has to say on the topic

Bridges felt the chance of doing a new Tron movie was too good to pass up. "[It's] another unique, wild experience that was too good to turn down. Engaging in that world again feels just like it did all that time ago. Basically, I'm still a child, I love being childlike, and here was another chance to play with these crazy toys. And the cutting-edge technology makes it exciting. Doing the teaser trailer for Comic-Con, I had my first experience of motion capture. And that's turning the industry on its head. It's amazing being part of that."

And if Bridges is to be believed, you can expect Tron 2 to break the same kind of technological ground that the first one did. "When we made Tron there was no internet, no cellphones. But now we have motion capture, so I think we'll get a far more successful version of the story, which is someone literally getting sucked into a video game. When we did King Kong in the 70s, one minute you'd have a shot of Rick Baker in this big suit and then you'd cut to this 80ft stiff model, and they looked nothing alike. Compare to that Peter Jackson's King Kong, the technology is there and they did a wonderful job. I thought they created a beautiful Kong. So I hope that'll be the same for Tron."
Wednesday, 19 August 2009 18:44

Civil War vet John Carter is transplanted to Mars, where he discovers a lush, wildly diverse planet whose main inhabitants are 12-foot tall green barbarians. Finding himself a prisoner of these creatures, he escapes, only to encounter Dejah Thoris, Princess of Helium, who is in desperate need of a savior.

a half animation/half live action project
Movie History
'Robert Rodriguez' had originally been signed and announced as director and had begun pre-production in 2004 (it would have been his largest project to date with starting budget reported at $100 million). However, when Rodriguez resigned from the Directors' Guild of America (DGA) the same year (due to a dispute over his film Sin City (2005)), Paramount was forced to replace him. The studio has a long-standing arrangement with the DGA in which only the organization's members may direct Paramount films.

Like "Lord of the Rings" and "Dune", there have been numerous failed attempts at filming Edgar Rice Burroughs' "A Princess of Mars" since its first publication in 1917.

In 1931, animation legend Robert Clampett approached Burroughs himself with the idea of making the book into an animated film, to which Burroughs was enthusiastic. The author's son, John Coleman Burroughs, helped Clampett create an extensive array of sketches, sculptures and production notes while the rights to the project were picked up by MGM. However, Clampett and the two Burroughs soon clashed with the studio over the direction to take the film - the creators wanting to make a serious sci-fi drama, the studio wanting a slapstick comedy with a swashbuckling hero. Eventually, the studio pulled the plug on the entire project. Originally planned for a 1932 release, it would have been the first feature-length animated film (the honour of which is held by Disney's Snow White and the Seven Dwarfs (1937)). When Clampett toured and lectured at universities in the 1970s, he would often screen some of the uncompleted animation footage for enthusiastic audiences.

Stop-motion animation legend Ray Harryhausen attempted to spearhead a live action version of the book on the heels of his success with 7th Voyage of Sinbad, The (1958). He, like Clampett, created an extensive cachet of sketches and models to be used on the film. However, the sheer scale of the project (as well as Harryhausen's admitted lack of enthusiasm for the book) forced the animator to end his work on the film. In his memoir, "An Animated Life", he goes into detail of the would-be project as well as revealing some of the unused sketches.

During the 1980s, Disney optioned the rights with Mario Kassar and Andrew Vajna (Carolco) brought on as producers. John McTiernan (I), fresh off the sucess of Die Hard (1988), had been hired to direct a screenplay by Terry Rossio and Ted Elliott with William Stout hired as production designer. Tom Cruise had been rumored to be in talks for the role of John Carter. However, the sheer scale of the project, coupled with what McTiernan saw the "limitations" of special effects at the time, kept the project from being fully realized. The pre-production financing alone contributed to the eventual bankrupture of Carolco. After numerous attempt to reinvigorate the project in the 1990s, Disney finally pulled the plug and attempted to sell the rights to the film. After several years, they were finally acquired by Paramount. It is rumored Paramount optioned the rights to this series two years ago from the Burroughs estate for $300,000 against $2 million.

In 2007, Disney reaquired the rights to all 11 books in the series and appears to be tackling it once again. Pixar Animation studios will be producing it as an CG animated feature film.
Wednesday, 19 August 2009 18:43
Stevenson To Direct He-Man.

By George 'El Guapo' Roush


Warner Bros. and producer Joel Silver set "Kung Fu Panda" co-director John Stevenson to make his live action directing debut on "Masters of the Universe," a re-imagining of the signature Mattel toy line.

Summary

The power of Grayskull is strong in "Kung Fu Panda" co-director John Stevenson, who has been confirmed as the director of Joel Silver's long-in-development "Masters of the Universe" adaptation.

He-Man is a brawny prince who transforms into a warrior who becomes the last hope for a magical land called Eternia, which is being ravaged by technology and the evil Skeletor.

Silver is producing through his Silver Pictures banner. Mattel's Barry Waldo will be executive producer.

WB acquired the property in 2007, and Justin Marks wrote the first draft of the script based on a story he developed with Neil Ellice.

The Mattel property became iconic by way of the 1980s cartoon series "He-Man and the Masters of the Universe," and the property was previously turned into a campy flop by Cannon Films in 1987, with Dolph Lungdren as He-Man and "Frost/Nixon" star Frank Langella as the villainous Skeletor.

The film project is a big priority for Mattel, which licenses a high-end line of He-Man toys that are popular with hardcore collectors. Hollywood has become a magnet for branded toy-line properties, as DreamWorks and Paramount ready a June 26 release for "Transformers: Revenge of the Fallen" and Paramount preps for an Aug. 7 release on "G.I. Joe," both of which began as toy lines that became hit animated series.

Stevenson said the first film came to mind when he was asked to consider the job, and the impression wasn't a good one. He changed his mind when he went to Mattel headquarters and was shown into a secret lair that contained the visuals created by the toymaker staff.

"There was this locked bunker that you had to be escorted into," Stevenson said. "It was filled with art, some generated by the Mattel artists, and I looked around, and said, 'I get it.' We started formulating a specific vision for costumes, creatures, architecture, and the creation of a mythology and look for a whole world we'll create."


Waldo said that Stevenson's vision to elevate the material matched with Mattel's desire to see He-Man become a big studio film. Mattel has also brought its "Hot Wheels" film to WB and Silver.


"John had such passion that we found ourselves trying to running to catch up with his vision," Waldo said.


Stevenson has also worked on "Shrek" and "Shrek 2," "Madagascar," and "James and the Giant Peach," and began his career working for Jim Henson on projects that included "The Dark Crystal" and "Labyrinth."




CAA reps Stevenson and Mattel.
Wednesday, 19 August 2009 18:43
Fox moves forward with adaptation



Story centers on Lemuel Gulliver, a free-spirited travel writer who, on an assignment to the Bermuda Triangle, suddenly finds himself a giant among men when he washes ashore on the hidden island of Lilliput, home to a population of industrious, yet tiny, people.

"Forgetting Sarah Marshall" helmer Nicholas Stoller and Joe Stillman ("Shrek") penned the screenplay.

Fox has kept development of the project under wraps -- a common practice with public domain-based material -- even though Letterman has been attached to helm for some time. But the studio quickly greenlit the film once Black committed. Shooting will start in March; locations are still being set.

Fox-based John Davis is producing alongside Black's Electric Dynamite shingle and Ben Cooley, Black's partner at the shingle.

Swift's 1726 novel has spawned a number of bigscreen and smallscreen projects, including a 1996 miniseries starring Ted Danson.

Jack Black, who will next be seen in Judd Apatow-produced comedy "The Year One," is aboard to topline sequels to "School of Rock" for Paramount and "Kung Fu Panda" for DreamWorks Animation.

Letterman and Conrad Vernon will direct "Monsters vs. Aliens" for DreamWorks Animation.
Wednesday, 19 August 2009 18:41
Paramount is developing a new animated CGI film titled Rango with Pirates of the Caribbean director Gore Verbinski set to direct.


In addition to Verbinski, Johnny Depp is on board to provide the voice of the lead character, described as "a household pet that goes on an adventure to discover its true self."

The film is tentatively scheduled for March 2011 and the CGI will be completed at Industrial Light and Magic.

The script for Rango was written by John Logan (The Last Samurai, The Aviator, Sweeney Todd) and is based on an idea from Verbinski.

While Verbinski is preparing his adaptation of Bioshock, he'll be directing Rango, but as for which we'll see first, I can't yet say, considering this isn't due until 2011.
Gore Verbinski's Rango is an adaptation of Berkely Breathed's Flawed Dogs. That book has apparently very little narrative to speak of, just a cast of odd dog characters, but Verbinski brewed a story up himself and set John Logan to scripting it. So this tells us that Depp's mysterious household pet is none other than man's best friend, Canis lupus familiaris. My source suggests that Isla Fisher may be playing a human role, one Heidy Strudelberg, but stressed that was a guess based upon nothing more than familiarity with the book (something I sadly don't have - do you?) and I did have to check they meant what I thought they meant because Google seemed to be suggesting Strudelberg had actually written the book. She hadn't - she's a fiction.
Wednesday, 19 August 2009 18:40
'The funniest comic book on the planet right now.'
- Scott McCloud, THE BELIEVER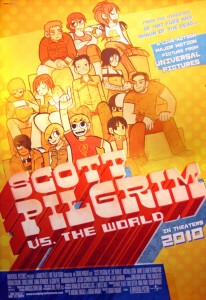 WHO THE HELL IS SCOTT PILGRIM AND WHY THE HELL SHOULD I CARE?
Scott Pilgrim is a 23-year-old guy living in the big city with his gay roommate, just trying to make his way in this crazy world.

Scott Pilgrim likes the new girl in town, Ramona Flowers, but to win her heart, he has to defeat her seven evil ex-boyfriends. Wait, what?

Scott Pilgrim is named after a song by the late great 90's all-girl Canadian indie rock band, Plumtree.

Scott Pilgrim is a critically acclaimed, award-winning series of graphic novels by Canadian cartoonist Bryan Lee O'Malley. VOLUME 5 is released FEBRUARY 2009. There will be six volumes in all. They are published by Oni Press and released approximately once per year. (Ages 13 and up!)''

IS THERE GOING TO BE A MOVIE?

The Scott Pilgrim series has been optioned by Universal. They plan to make a movie version called Scott Pilgrim Vs. The World. It will be live-action (not animated). Edgar Wright will direct. He and Michael Bacall are writing it, based on the entire series. Michael Cera and Mary Elizabeth Winstead will star. The first day of principle photography is March 30th, 2009. (imdb)
<< Start < Prev 1 2 3 4 5 6

7

8 9 10 Next > End >>


Page 7 of 13